Kick-Start and Starry Night O-CUP Races
November 21st 2015 11:00am
Organizers: Michael Lucente (Event Director), Dale Sukhall (Event Director), Heidi Langenberg (Event Director)

Kick-Start the 2015-2016 O-CUP season with two races and a training all in one day! This year the Stars present Kick-Start, a great O-CUP By Day, AND Starry Night, a first of a kind O-CUP After Dark! O-CUP points will be awarded separately for each race, so it is a great chance to leap to the front of the O-CUP standings.
Results
Note:
- We realized afterwards we did not announce any cut-off for the Kick-Start before the race, therefore we have decided to award an official result to all participants who finished the course.
- A number of runners reported that CP E did not work in the first box, therefore any runner who is only missing CP E to complete their required number of controls in the first box is awarded the control.
Starry Night Results and Splits
Event Description
Both Kick-Start and Starry Night follow the O-CUP handicap rules. Participants have the option to skip checkpoints in each box equal to their handicap point total. Handicap points for this year's course will be awarded as follows:
6 - Women 12 or younger, Men 12 or younger, Women 65 or older
5 - Women 14 or younger, Men 14 or younger, Women 55 or older, Men 75 or older
4 - Women 16 or younger, Men 16 or younger, Women 45 or older, Men 65 or older
3 - Women 19 or younger, Women 35 or older, Men 55 or older
2 - Women 20 to 34, Women ranked in the top 10 in Canada, Men 45 or older
1 - Men 19 or younger, Men 35 or older
0 - Men 20 to 34, Men ranked in the top 10 in Canada
Details of the Kick Start O-Cup
Finally the time of year has come where we get set to match our wits against friends and foes to earn points and bragging rights for ourselves and clubs. This course offers beautiful terrain to run with trails, hills, open woods and a little bit of thicker stuff at some locations.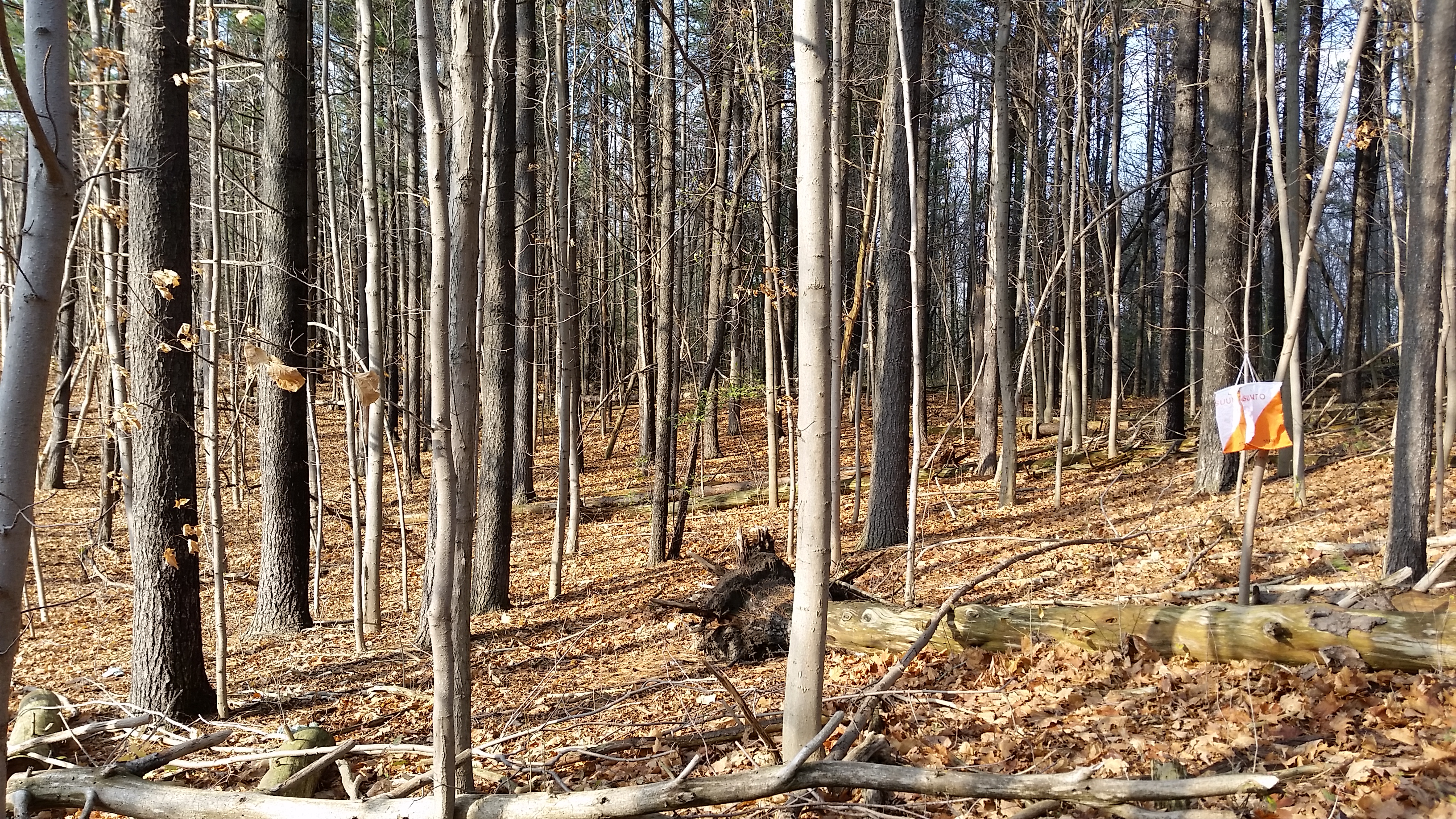 There will be two boxes where runners can skip controls based on their handicap and the maximum time is 90 minutes.
This course will be ~4.5 to 8.5km long depending on handicap and route choice with an estimated winning time of 45 minutes.
Map Scale: 1:5000
Contour Intervals: 3m
Details of the Starry Night O-Cup
Starry Night will be the first night O-CUP race, and will start shortly after sunset. Make sure you bring a headlamp or flashlight. Starry Night will be hosted at McLennon Park, which is mostly open fields and park land. It will be a fun challenge for everyone, and a great introduction to night racing for anyone who has yet to race in the dark.
Event Locations
Kick-Start Location: Homer Watson Park, Kitchener. Follow this link for parking location.
Training Location: Breithaupt Park, Kitchener. Follow this link for the parking location.
Starry Night Location: McLennan Park, Kitchener. Follow this link for parking location.
Event Schedule
10:00 - 10:50: Kick-Start Registration
11:00: Kick-Start Race Start
14:30: Training Start
16:30 - 17:30: Starry Night Registration
17:40: Starry Night Race Start
Gear Requirements
Whistle
Compass (recommended)
Flashlight/headlamp (for Starry Night)
Fees
Registration is open. Online registration closes November 19.
Race Day Fee is limited to 15 registrants, first come first served.
Sport Ident Chip Timing
Please include your Sport Ident number when registering. If you need to rent a Sport Ident card, select the checkbox on the entry form and you will be charged a $2.50 rental fee (free for Stars Members). Note: The replacement cost for a Sport Ident Type 6 chip is $75.
---
---
Location